Sarthak Mentor & Guru - Padma Bhushan Dr. MB Athreya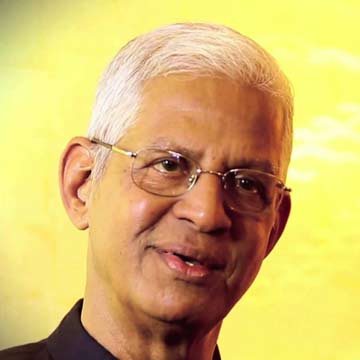 Padma Bhushan Dr. Mrityunjay Athreya is recognized as one of the founders and pioneers of the Indian Management Movement, including Education, Research and Consulting. He has made a sustained contribution, over nearly five decades, on return from the US, after obtaining his Doctorate in Business Administration at the Harvard University. He has been available nationally to Corporates; Central and State Governments; and NGO's, as an independent resource person. Dr. Mrityunjay Athreya is recognized as one of the founders and pioneers of the Indian Management Movement, including Education, Research and Consulting. The Athreya Committee, 1991, set the agenda for the transformation of the Indian Telecom sector. He has spoken at many national and international conferences on issues of Management; Values; Governance etc. He has been honoured with several awards, including the Padma Bhushan, of the Government of India.
From the desk of Mentor
Sarthak has successfully converted some of the challenges posed by the Corona pandemic into opportunities. A major challenge has been the lockdown, and the consequent restrictions on travel and gatherings. Sarthak has transformed its physical processes into virtual services of training, counselling, therapy etc for Divyangs. It also digitized all its records and Databases, in all its programs for easy entry, transfer, access and utilization. Some of these strategies have been so successful and eye-openers that Sarthak may continue them even after the pandemic subsides.
The pandemic has not daunted Sarthak from launching new Projects, with existing and new Corporate Job Partners, for the skill training and placement of Divyangs. For example, in the Mahindra Group, a new, most welcome partner is Mahindra Insurance Brokers. A pioneering new program is with Pernod Ricard. It is a special program for vocational skilling of Women with Disabilities (WwD). It is not restricted to any one location. It will have all India coverage. Sarthak is honoured to have a Partnership with Infosys for upskilling PwD trainees. Other new project partnerships include Altron, GMR, Rotary Club of Delhi, Polaris Foundation, Himalaya Drug and others.
As part of extending its footprint all India, Sarthak had planned to start operations in three more Centres --- Bengaluru, Indore and Bhubaneswar. Due to Covid, these had to be deferred. Hopefully, in 2021. MoUs have been signed with the Vocational Resource Centres of several states for skilling and placement of PwDs. The work with Social Welfare and Employment Exchanges continues all over the country. Sarthak is proud to have earned the Cognizant Foundation Award for "The Best NGO Partner in the Category 'Vocation Skill Building of PwDs".
Given India's huge national challenge of serving about 60 million PwD in 21 disabilities, Sarthak realizes that it has to become a "Meta NGO", helping and catalyzing hundreds of NGOs, all India, to help PwDs. Sarthak has initiated a common platform called RDSM, Rashtriya Divyang Sashaktikaran Manch. Over 200 NGOs have joined. Senior executives and Advisory Board Members are in virtual touch with a few, every week, by rotation.
Another aspiration of Sarthak is to have support and exchange programs with likeminded partners abroad.
Sarthak plans to set up a multistorey SGRC, Sarthak Global Resource Centre. We are grateful to the Government of Haryana for approval of HUDA land in Gurugram. Architects have designed a functional building. Sarthak seeks significant funding from Corporates, Foundations, HNIs and other Donors.
I pray for the health, safety and progress of all our multiple stakeholders, including, naturally our primary stakeholders, the Divyangs.