About CEO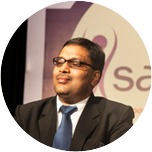 Dr. Jitender Aggarwal
'A butterfly beating its wings in Hong Kong can unleash a storm in New York'
This popular saying well illustrates the idea that even the smallest change has the potential to create completely different circumstances due to the process of amplification.
And, with this thought as the guiding force, we keep going and do our share to achieve a World of Equal Opportunity and Inclusion for all irrespective of their physical and intellectual differences.
Dear Readers
I always cherish this time of the year, when I get this opportunity to interact with you all.
And share the developments of the year and our plans to accelerate the pace of inclusion and empowerment of the divyangjan.
This year we all faced various challenges owing to pandemic and for divyangjan the multitude increased manifold. We also faced tough time strategizing to balance safety of our staff and beneficiaries as well as maintaining the regularity of services.
Time is really very crucial for our service areas let it be providing therapies and support to special children or providing training and employment support to youth with disabilities. And, thus we took the decision to continue the same using the Online Services and Support.
And, we must admit that our teams across locations have been very proactive at this front as well. We started with limited means and resources and within the period of 1 to 1.5 months adopted structured online support and services.
Much to our surprise this turned out to be an opportunity in adversity. Because once we started online services geography was no more a challenge. We enrolled students from different parts of the states for each location rather than getting restricted to only Sarthak centres. Furthermore, as it did not involve any sort of travel, classes were full of students and we have achieved 100% of attendance in most of the batches. To cope up with the practical challenges of participation and engagement of beneficiaries we flipped the classroom model. Reading materials, videos and quizzes were shared before the sessions and active discussions of concepts enhanced learning among the trainees. We have also provided Work from Home employment opportunities with the support of our 1000+ hiring partners
National Abilympic Association of India also adopted online training of National winners to upskill and prepare them for International Abilympics Competitions scheduled to be held in Moscow, Russia from 26-30 May, 2021.
With the gracious support of our partnering organisation Capgemini, we have developed Mobile App - CapSarathi. This app aims at reaching to every nook and cranny across India and providing information, services and support to people with disability (PwD) at a click.
Formation of an interest group of 250+ NGOs working for divyangjan across India under Rashtriya Divyang Sashaktikaran Manch is another highlight. As the next step, we have started extending training and required support to all these NGOs in different capacities.
We were also featured in Karamveer series of Kaun Banega Crorepati in the month of November. The complete experience of shooting for the episode has been really heart-warming and a complete roller coaster ride. It had been a great privilege to be at the platform and telling none other than Bollywood Megastar Shri Amitabha Bachhan about the vision of Sarthak Educational Trust - Sarthak ka Prayas, Har Divyang Ka Vikas
(The efforts of Sarthak to ensure growth and development of all people with disability)
We thank all our supporters and well wishers for their continuous support and blessings to lead us to this level.
Keep on motivating us, supporting us and being the part of this movement of inclusion and empowerment of PwDs
Dr. Jitender Aggarwal
Founder & CEO, Sarthak Educational Trust
Email: sarthakedu@gmail.com