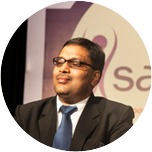 Dr. Jitender Aggarwal (Founder)
Dear Readers
You all must have heard about Astavakra, equally known for reflection of intellect and wisdom- in the form of Astavakra Gita - and deformity of all 8 limbs (feet, knees, hand, chest, and head).
This combination of extreme physical deformity and intellectual steadiness throws a very clear message that physical structure may cause challenges, may make you struggle for day to day tasks, but it has nothing to do with defining your potential. The only factor that defines one's potential is his/her perception of self.
If one thinks himself as capable, he is capable, because his conscious and unconscious minds are working towards making him capable and vice versa. And, this is what we at Sarthak Believe, Act, and Echo to ensure Empowerment of Divyangs.
We have completed 12 years of our initiatives and efforts in 2018.
We started with the hope of inclusion of Divyangs in mainstream and now with God's grace and faith of our supporters, we dream of a nation where no one is deprived of basic right of contributing to its nation's progress on physical/ intellectual variance grounds.
With every passing day our supporters increased and with this support, we kept on reaching to larger numbers of divyangs across India in last 12 years. I feel happy to see flashing figures of 20000 trained and 18,000 placed divyangs across our 20 locations on Sarthak's website that we are able to achieve under the guidance of our Mentor & Guru, Advisory Board, Government, Corporate supporters and Media Partners.
I feel satiated on completion of every batch across centres, and witnessing their convocation, and their first salary stories with the support of our 1050+ Equal Opportunity Employer, & 25+ Funding Partners, NSDC, Capgemini, Cognizant, PowerLinks, Hans Foundation, HSBC, SBI Foundation, Mahindra Finance to name a few.
We started with inclusion and empowerment of underprivileged and now are working for Excellence in Skilling by promoting skills of divyangs enrolled in higher education through National Abilympics Association of India.
We look towards your continuous association to help us achieve our vision of an Inclusive Nation!
Dr. Jitender Aggarwal
Founder & CEO, Sarthak Educational Trust
Team Leaders Sarthak
Dr. Suman Aggarwal
Strategic Leader- India
Nistha Tripathi
Programme Leader- India
Tarun Bansal
Operations Leader- India
Lakshay Singhal
Finance Leader- India
Pooja Thapliyal
Early Intervention Lead
Bhavna Malhotra
Advocacy Lead
Rajat Mohan
NAAI Lead
Dr. Shruti Jain
Consultant Career Counsellor