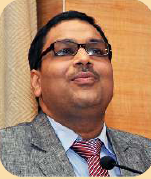 Dr. Jitender Aggarwal (Founder)
Dr. Jitendra Aggarwal is the founder & CEO of Sarthak Educational Trust and Secretary General, National Abilympic Association of India. Dr. Aggarwal is working on the principle of empowering the persons with disability through Early Intervention, Inclusive Education, Skill Development, Sustainable Employment, Advocacy Generation, NGO Capacity Buliding, Accessible Event Management and Parents Interaction Forum.
Before, starting Sarthak Dr. Aggarwal practiced as dental surgeon for six years. In 2004 Dr. Aggarwal lost his central vision due to macular degeneration and thus had to discontinue his practice. During this period he realized dependency as the biggest trauma a persons with disability (PwD's) faces. Thus, he envisioned a platform where this dependency can be cured. With this thought, in 2008 Dr. Aggarwal started with one centre in Delhi and gradually expanded to 17 centers across nation. Through its presence in Delhi(3), Chandigarh, Gurugram, Ludhiana, Lucknow, Jaipur(2), Hyderabad, Mumbai, Pune, Ambala, Bhopal, Kolkata, Ghaziabad and Faridabad with the support of National Skill Development Corporation, Tech Mahindra Foundation, Capgemini India Private Limited, Mahindra Finance and various other agencies.
Through its Early Intervention and Inclusive Education initiative Sarthak has rehabilitated 825+ and 425+ children with disability respectively. And, with Sarthak Skill Development Centres, has successfully trained 11000 PwD's candidates in the sectors of Tourism & Hospitality, Organized Retail, and IT-ITes. Furthermore, 100+ job fairs have been organized in 21 states to provide employment opportunity to those PwD's candidates who are already skilled. Through Job fairs and skill centers 14,000 PwD's have been provided employment.
Dr. Aggarwal is the governing board member of Sector Skill Council of persons with disability (SSCPwD). He is a member of screening committee of National Award for Disability, and National fund for persons with disability. He is also a member of selection committee of National Action Plan (NAP) for Persons with disability.
Our Team Members