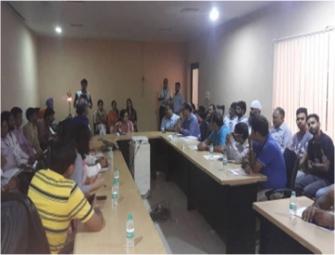 28th Round Table Conference organized at Sarthak Educational Trust, Ludhiana. A unique initiate of Sarthak, a platform facilitating the corporate houses to present their views on the hiring front of people with disabilities and discuss a way forward for their large scale inclusion in the workplace.
In the presence of the management of 12 corporate houses, discussion & deliberation took place on September 8, 2017, to work on the future course of action.
In the glimpses, heads from Bansal Knitwears, MS Infotech, Mentor India, Akal Spring Limited, C Net Computers, A Hotel, Vodafone Network & BPO, Nikhar Parlor, Punjab Printing Press, and others.